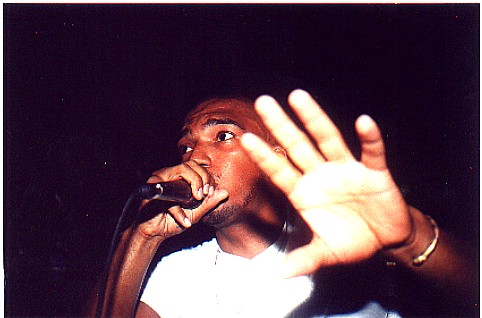 (X-WAM) on the left:

The #1 Montreal Beatbox Champion at the 24th Element 'Enigma' Beatbox Competition 1999,
X-Wam is the ultimate true school beatboxer, cuttin' back n forth with turntable technics, skrachin', mimicking voices and samples, backward styles, remixes and phat beets and even a touch of DnB, he be the team everyman.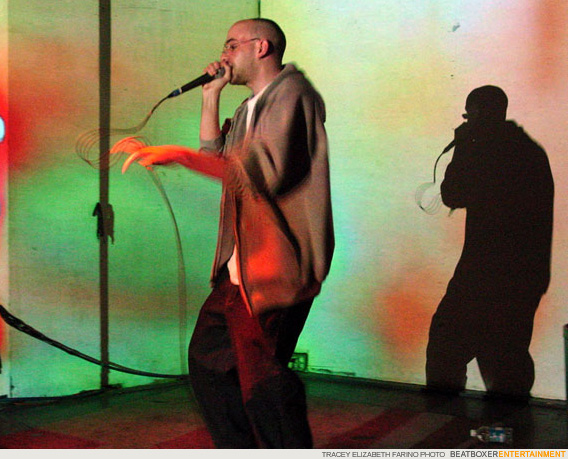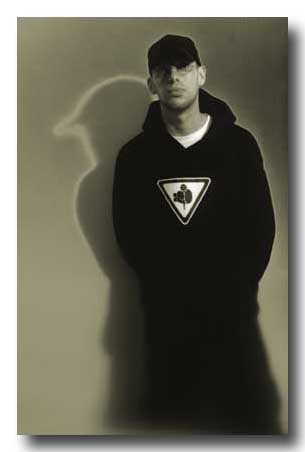 (ABRA) on the right:

Part of the KOPS crew and "Leave Out Violence" organization in which he contributes pieces to the bi-annual paper from Halifax, T.O. Montreal and Van, the mad rhymer and "Skrachtaktician" Abra (A.K.A. Abracadabra) can be touched by no one on the skrach. Delivering serious blows to any beatboxer that tests his pseudo-turntablism and keeping the trickiest of turntablist skrachaholick sweatin'. Abra has spat phatness with the likes of Public Enemy, Swollen Members and various others. Keep a look out for mad remixes and various vocal trix that'll keep fools guessin'.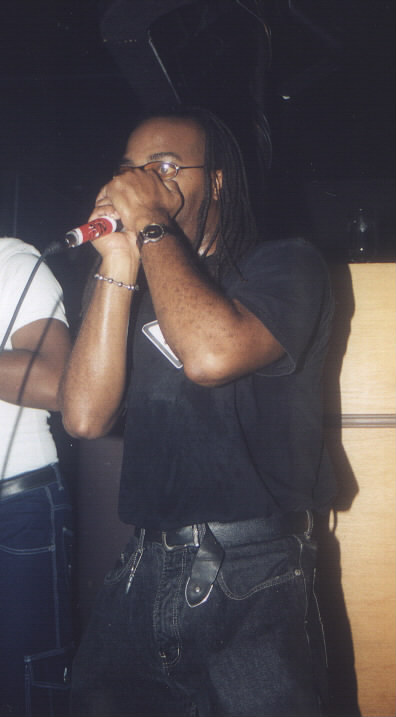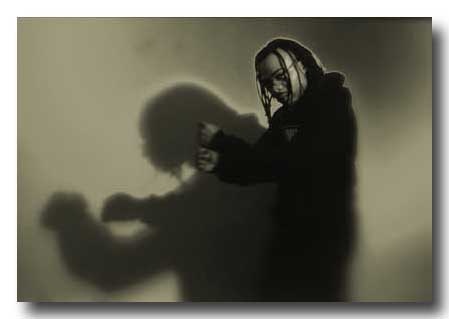 ORGANIC BASS
(aka Just Iz, aka Prof. Over Tap. Apart of Amalgastylee Massive, Beached Whale)

Organic Bass be Blair Martin, and his beatboxing skillz and endurance are uncanny. He's been beatboxin'
for az long az he can remember starting with olskool hip hop tekneex. Hands down the sickest snare you'll ever hear, he mixes stylees ranging from phat jump up, ragga and jungle to house, calypso, and remixes of Aaliyah, James Bond, Loony Toons Dr. Dre and dozenz more. Just Iz has reprezented with jungalists Gnat and Sase One, Jake Warrey of The Herbaliser, the amalgaliscious band Beached Whale and various other DJs. You can also catch him throwin' it down on trombone with the 'Whale.

"He's crazy! I don't know why, he just iz!"
-Quadraceptor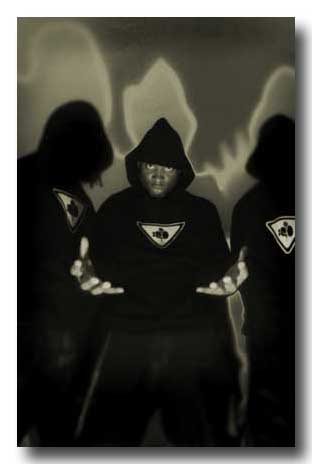 He has gone solo but not forgotten.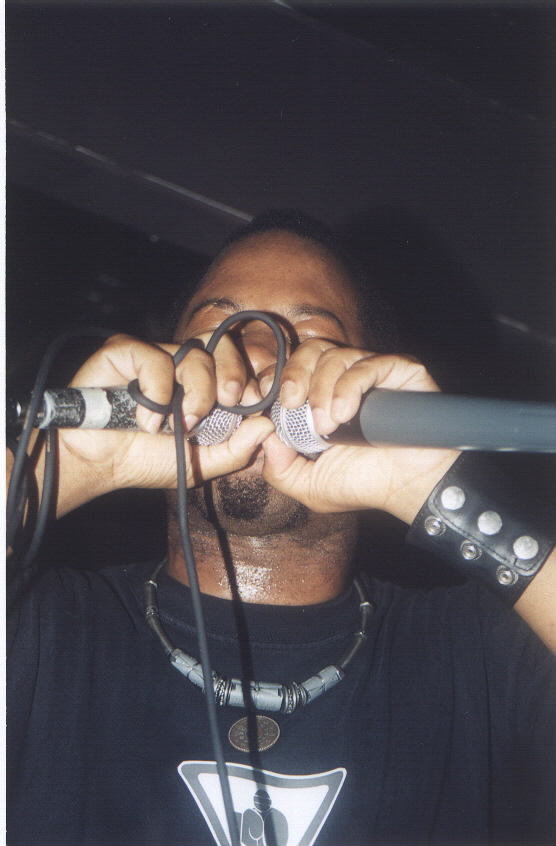 QUADRACEPTOR
(Amalgastylee Massive, Beached Whale)

AKA Miscellaneous of Beached Whale, AKA Lateef Martin has a stylee unparalleled: from offensively obese tripped out flip hop to experimental drill n bass tekneex to hyper-komplex Aphex/Tobinismz, the weirder the better, no doubt the fastest beatboxer around. The Luke Skywalker to Just Iz's Obi Wan, he has spewed the quickness with Bran Van 3000, The Herbaliser, Jazz Pharmacy, The Roots, Strictly Kev, Phonologic, Hectic, skrachmaster MTRX, Beached Whale and various others.

Check out tha tripped out collab 'Precursor' with Ninjatune's Amon Tobin on his release 'Supermodified'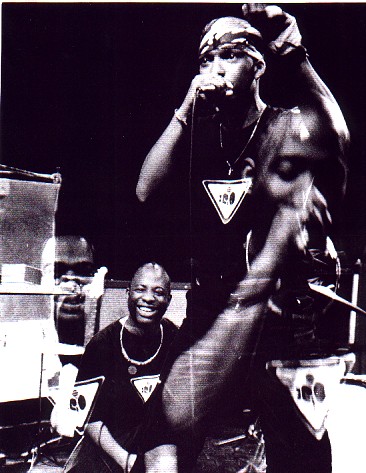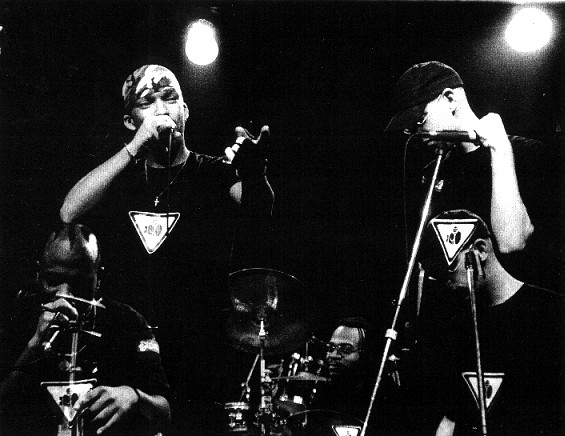 Interview with The Shadowboxerz

By: Jessica Linnay [contact]

Date: July 6th 2003
Montreal, QC - The Shadoboxerz have been stepping out of the shadows and into the spotlight for quite some time now, riling up crowds and making noise in the hip-hop community, Canadian and beyond, with their mad beatboxing skills.

Stepping out of the nation's capital, this talented trio began collaborating as one in 1999 at the Enigma beatboxing competition in Montreal, taking advantage of the break time judges used to tally up points to rock the crowd together, much to the enjoyment of spectators.

"The crowd gave an extremely enthusiastic response so we decided to see what we could do with it," says Abra, who also spins and produces beats. And so they jumped at the chance of becoming a group after the battle, which X-Wam won, had ended.

"It was my first competition," he says, "so I'm happy that I won but I'm happier that I hooked up with the rest of the guys."

And so Abra, X-Wam, and Organic Bass came to be the Shadoboxerz, now notorious for their combined and solo skills. Their first official show together was a slot following Kid Koala and preceding Amon Tobin, in a full house of about 1000 people at Club Soda in Montreal, long after they first began exploring the realms of bodily sound.

"I've been imitating noises for as long as I can remember," says Abra. "Any sound that I hear is a possible sound in my audio lexicon. The appeal for me was just to impress people; initially it was a way to make friends."

"I copied anything I heard on TV or from people. I do voices, from cartoons to singers," adds X-Wam. "People are shocked to hear the things I can do with my sounds."

As the shock factor started people talking, the opportunities started rolling in. And there are lots of breaks out there for striving beat boxers, Abra maintains, depending on how you place your priorities. Luckily, they got "instant love and recognition," he says, and continuously upheld their drive to further and develop their skills.

"Always asking for more and never backing down are they keys to this kind of work," agrees X-Wam.

Following their stint at Club Soda the trio went on to perform at a slew of other locations and scores of other artists, like alongside Virtuoso, Mr. Lif, Manchilde of the Butta Babees and others at L'X Club in Montreal, their slot at Funky Fresh alongside junglists and break DJs Capital J, Marty McFly, Gnat, Sase One and Corey K.

Although the boys don't yet have enough live material to release their album in August, as previously planned, being all wrapped up in other aspects of their lives and busy with other endeavors, a CD will in fact be out "soon enough," says Abra. "Expect something new and refreshing."

As for solo business, the boys have always held their own and continue to develop individual projects.

Abra, aka the HumanMouthMachine, aka the Skratchtactician, has rocked coast to coast with some of the biggest names in hip-hop since stepping onto the scene in the '90s. He's opened for the likes of Grandmaster Flash, Slum Village, Swollen Members, Kid Koala, Z-Trip, Talib Kweli and Public Enemy.

He plans to record a track for Chuggo, member of Toronto's Lakeshore Stranglers, and has working plans to collaborate with K-OS, as well. He also has a solo album being formulated and a "crazy" live show, of which details are to be kept on the down low, for the time being.

As far as the near future Abra's looking to finish his Linguistics/Political Science degree at Concordia and go on tour with Beatboxerent, as soon as the touring schedule is completed.

X-Wam, the "all around guy," has a broad, everywhere sort of musical history; he's worked with club and wedding singers doing jazz, pop, rock, and hip-hop, has been on Popstars The One, rapped at the 1994 Montreal Jazz Fest, and deejayed on radio stations and at various clubs.

X-Wam didn't start off in the scene as a beatboxer so many years ago; he began his stint in the hip-hop world as a rapper, and has let his styles roll into a cutthroat beatbox combination of scratching techniques, voice and sample mimicking, backward flows and drum and bass inspired routines. Any way, anywhere, he makes it work with the skills he harnesses.

"I bring my mix of talents with me and it fits into any style of music," he explains.

Organic Bass, producer of the "sickest snare you'll ever hear," stretches his style from jump up and ragga jungle to house, calypso, remixes of Aaliyah, Dre, and more; he's been beatboxing since back in the day, rolling with old school hip-hop techniques and evolving with the times to develop a skilled and supernatural ability. Among those he's hit the stage with are Sase One and Jack Warrey of Herbalizer.

With so much experience under their belts already, the Shadoboxerz have much in mind for the future, and are continuing crunch time to expand and grow beyond their current position, as well as enjoying their time in the spotlight. While much of the men's talent came naturally, developed out of childhood habits, they are no strangers to hardcore practicing routines. "Like anything in life," says Abra, "you need to practice to improve and evolve."

"75% talent 25% practice," is the equation X-Wam deciphers. And still, "I practice making noises whenever I can."

"The future has a lot in store. All I see is bigger and better."